Chaika Events specialises in organising memorable, creative eye-catching events across UK, Europe and Russia.
details...

Sitemanager
25 Eccleston Place, Belgravia, London SW1W 9NF, UK,
+44 786 322 5048 , +44 779 110 6355
Children's Christmas Spectacular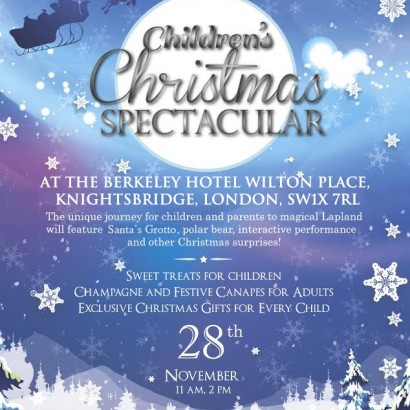 Start:
28 November 2015 at 11:00
End:
28 November 2015 at 14:00
Address: Great Britain, London, London, 25 Eccleston Place, Belgravia, London SW1W 9NF, UK
Phone number: +44 20 7205 4234
Mobile number: +44 779 110 6355
We are delighted to invite you to the "Christmas Spectacular 2015", a truly magical Trip to Lapland for children and their families that will take place at the luxury Berkeley Hotel, Wilton Place, Knightsbridge, SW1X 7RL on the 28th November.
http://www.the-berkeley.co.uk/
Be transported into a fairytale world of wonder. An interactive show full of adventures and surprises for the whole family awaits you, featuring:
- Real Santa's reindeer from Lapland;
- Lounge with real penguins;
- Special guest - Christmas Polar Bear;
- Santa's photo Grotto;
- Reindeer Rodeo for the most adventurous;
- Christmas desserts and treats, ice-cream for children;
- Festive canapés and champagne for the parents.
A spectacular live performance telling a story about adventures of Lapland inhabitants will be the highlight of the magical trip. At the end of the show, each child will get a special gift from Lapland.
Come to have lots of winter fun and discover Lapland's magic!
Book before the 2nd of November to get your "early bird" ticket!
Website: http://www.childrenschristmasspectacular.co.uk/
Get your tickets here:
http://www.eventbrite.co.uk/e/childrens-christmas-spectaculars-28th-november-2015-11am-1pm-2pm-4pm-tickets-18974415989
0 comments "Children's Christmas Spectacular"