About ZSL Founded in 1826, the Zoological Society of London (ZSL) is an international scientific, conservation and educational charity: our key role ...
details...

Julie Welsh
London, Camden , Outer Circle Regent's Park London, NW1 4RY,
0844 225 1826
ZSL London Zoo's tiger undergoes pre-travel health check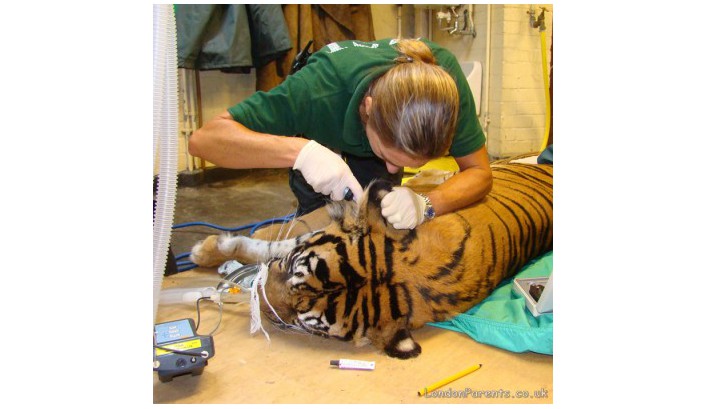 Raika, a 17-year-old Sumatran tiger at ZSL London Zoo, has undergone a final health check from vets ahead of moving to a new home this month, to make way for new arrivals for the Tiger Territory exhibit which opens in spring 2013.
Carrying out the medical in the tiger enclosure to save moving the 105kg (16.5 stone) big cat to the veterinary hospital, vet Tai Strike had the unenviable task of examining Raika's razor-sharp teeth at close range.
A visit to the vets isn't something the animals always look forward to, but the tiger keepers at ZSL London Zoo trained Raika to lean against the wall of her enclosure so that she could be anaesthetised with a handheld injection; without any of the stress of using a tranquilizer dart.
Once she was anaesthetised, blood samples were taken, and Raika's eyes, ears, teeth, chest and abdomen were all given the once over before vet Tai declared that she'd passed her health check with flying colours.
ZSL London Zoo vet Tai Strike said: "Every animal, big or small, must undergo a full health examination before moving between zoos to ensure that they are in good health and fit to travel.
I checked Raika from teeth to tail and gave her a thorough once-over so that she'll arrive at her new home in tip top condition. "Raika is a model patient and we were able to carry out her full check-up quickly and quietly – and she was blissfully unaware of the whole procedure when she woke up." The Sumatran tigress has lived at ZSL London Zoo since 1997, and will be moving with mate Lumpur to the Wildlife Heritage Foundation in Smarden, Kent.